Friday, September 7, 2012
Find me here!
Posted by

Kristin
at 4:29 PM
No comments:

I have given a lot of thought on my blog and have decided to change the name of my blog. I do not know exactly how Google reader works so it may automatically change but if not feel free to email me at ktaylorr@gmail.com to get to my new blog! I would give you the link but I have not made it yet. Hope all of you join me on my new blog!
Xo K.
Posted by

Kristin
at 3:11 PM
No comments:

Tuesday, September 4, 2012
I have been in a cooking rut lately. I seem to make the same 5 meals over and over again. One day I was on Pintrest and found a recipe for Spicy Chicken Rigatoni and decided to try it. It was seriously one of the best meals I have had in a while (including restaurants!). Here is the recipe. It is definitely not a healthy meal but I did change some things around to make it a little more figure friendly.
Spicy Chicken Rigatoni

INGREDIENTS
1/4 cup oil
1/2 Tbs crushed red pepper ( I halved this)
1/8 tsp salt
1/8 tsp ground black pepper
1 Tbs chopped garlic
6 oz chicken, sliced
3/4 cup. Marinara sauce
1/2 cup Alfredo sauce ( I used Light Alfredo)
2 tsp butter ( I only used one)
1/4 cup peas ( I added a lot more peas)
1 lb Rigatoni pasta, cooked according to package directions

additional 1/2 t crushed red pepper (for garnish) ( I

omitted

this I am not a fan of very spicy foods but J added some more and loved it)

1.

In a sauté pan, heat oil over medium heat. Add crushed red pepper, salt, black pepper and garlic and sauté just long enough for garlic to caramelize and red pepper to release flavor into the oil. Add sliced chicken and sauté briefly to coat in spices and garlic.

2.

Add Marinara Sauce first and then Alfredo Sauce and bring to a simmer. Cook until sauce thickens slightly and chicken has reached an internal temperature of 165°. Turn off flame, add butter and peas and incorporate into sauce.

3. Toss pasta with the sauce. Place pasta and sauce in pasta bowl, reserving the majority of the chicken to be placed on top of the pasta. Using a rubber spatula, scrape any remaining sauce from the pan to the pasta. Garnish with crushed red pepper and serve.
Posted by

Kristin
at 3:05 PM
No comments:

Sunday, September 2, 2012
Happy Sunday ya'll! First let me say that I am so happy my Mountaineers won their last game (for a while) against Marshall.It was so strange not to be at the game and seeing everyone's updates about going to the game but I am so excited to go to the game against JMU at Fed Ex Field!
In honor of football starting I made a WVU wreath to hang on our front door. I love it.
Now for Sunday Social with Ashley and Neely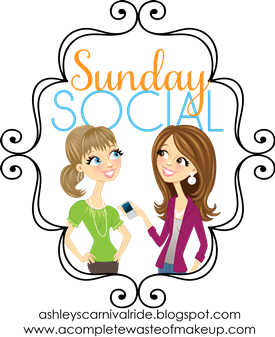 1. What was your favorite trip/vacation/activity this summer? Well I didn't really go on any vacations this summer except to help J's brother move into his new house. I will say my favorite event was going home for Memorial Day weekend and having my graduation party. It was great to see all my friends and family and celebrate my big day!
2. What was your favorite outfit look of the summer/clothing item? I wore sundresses almost every day since it's easy and cute.
3. What is one thing you wish you had gotten to do this summer? I wish I could have gone home and gone to the beach this summer. Although I did go home in May, I spent most of my time setting up for my party and such so I didn't get to go out with my friends or go to the beach.
4. What was your favorite song of the summer?
Pontoon
by Little Big Town. It just screams Summer.
5. What was your favorite movie/tv show of the summer? Big Brother! I have no idea why (since I am a reality show junky) but I never saw the show before this summer. I hope Danielle wins!
So how was everyone's weekend? Did your team win?
Posted by

Kristin
at 8:30 AM
2 comments: