Happy Sunday ya'll! First let me say that I am so happy my Mountaineers won their last game (for a while) against Marshall.It was so strange not to be at the game and seeing everyone's updates about going to the game but I am so excited to go to the game against JMU at Fed Ex Field!
In honor of football starting I made a WVU wreath to hang on our front door. I love it.
Now for Sunday Social with Ashley and Neely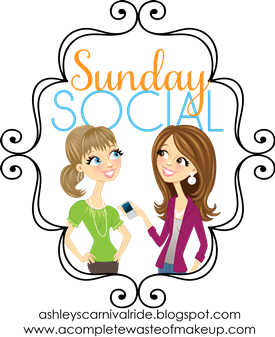 1. What was your favorite trip/vacation/activity this summer? Well I didn't really go on any vacations this summer except to help J's brother move into his new house. I will say my favorite event was going home for Memorial Day weekend and having my graduation party. It was great to see all my friends and family and celebrate my big day!
2. What was your favorite outfit look of the summer/clothing item? I wore sundresses almost every day since it's easy and cute.
3. What is one thing you wish you had gotten to do this summer? I wish I could have gone home and gone to the beach this summer. Although I did go home in May, I spent most of my time setting up for my party and such so I didn't get to go out with my friends or go to the beach.
4. What was your favorite song of the summer?
Pontoon
by Little Big Town. It just screams Summer.
5. What was your favorite movie/tv show of the summer? Big Brother! I have no idea why (since I am a reality show junky) but I never saw the show before this summer. I hope Danielle wins!
So how was everyone's weekend? Did your team win?